We hate to see you go!
For cancellation instructions please go here. For more details instructions, see below.
1. Go to the Account page and then click Cancel next to your Membership type.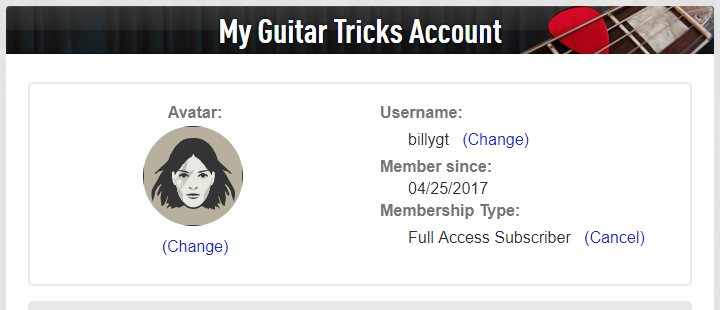 2. Choose a reason for wanting to cancel. At this point if you on a monthly subscription, you may also pause your subscription by choosing "I Want to Pause My Subscription Billing." At this time annual subscriptions can't be paused.
3. If you really want to cancel, please choose "I Don't Have Time To Practice Guitar."
4. On this page, click the link that says "There's nothing you can do to keep me as a member. I want to cancel my subscription."
5. Choose the reason for wanting to cancel then click on Cancel All Billing.
IMPORTANT NOTE FOR PAYPAL SUBSCRIBERS: You must log into your PayPal account to cancel your subscription. Use this link to get to the PayPal cancellation page for Guitar Tricks.